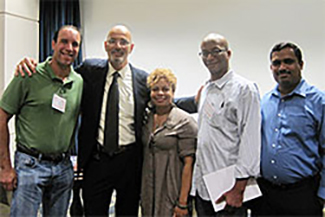 Paul Profeta and unnamed Rutgers EMBA Students at Dolce after his speech.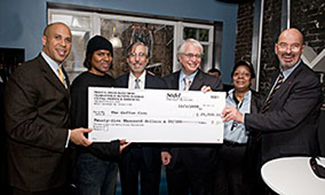 Mayor Booker, John Murray (Owner of the Coffee Cave), former Rutgers Business School Dean Michael Cooper, former Chancellor Steve Diner, former Rutgers teacher dt Ogilvie, Profeta at the gala opening of Coffee Cave.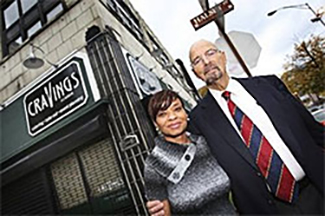 Marisa Blackwell and Paul Profeta outside the Cravings Restaurant.
As a tribute to his leadership and commitment to the City of Newark and its mighty people, we awarded Paul our Corporate Leadership Award at our 2014 gala. is prestigious award recognizes organizations and individuals like Paul, who have expanded social justice and opportunities, and made important investments in our urban communities.
Newark is increasingly becoming an incubator for minority-owned businesses, and the Profeta Urban Investment Fund is playing an important and unique role in the surge of new entrepreneurs. Paul Profeta takes a personal interest in the urban businesses that he helps to prepare for success. Funding is critical to new businesses and Paul helps to put the money together. But equally important is the guidance, teaching, advising and mentoring that he gives. Paul's Urban Investment Fund is one of the treasures of Newark 3.0
The Mission of the Profeta Urban Investment Foundation is to revitalize Newark as a vibrant business, shopping and residential hub. We are trying to achieve this by helping to launch and expand minority businesses in Newark, which will increase employment, and create a sense of pride in the ownership of the newly launched enterprises.